Lego Education has started shipping the next Evolution of Lego Mindstorms Brick, the EV3. I'm excited to say that I got mine and I'm spending way to much time playing with it. Well, I also wanted to learn more about it so I started digging into various on-line resources. Some are obvious, some may not be.
Lego Education: Lego Education information (Obviously)
Links to information on the EV3: The Next Step
EV3 Programming Videos (Thanks to 4476, the Waffles: EV3 Programming Video
There's many more sites that have information on the EV3. I'm going to try not to repeat much of the information in the sites, but I do want to give some of my opinions. Below is my EV3 in it's default configuration as built out of the box.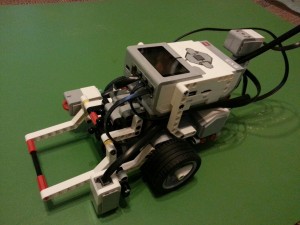 One of the things I really like the EV3 sensors is that it comes with a gyro sensor. That means it can be used with FIRST Lego League (FLL). For those who don't know, a gyro sensor can be used to determine how many degrees the robot has turned. That means teams don't have to guess at turns, they can make their turns exact. Robots can now use degrees for driving distance and then degrees to do an exact turn.
It's advertised that the old Lego sensor's will work with the EV3. For the most part this is true. Most of the sensor's I tried (i.e. touch, color, light, etc sensors) However, my distance sensor from my NXT kit didn't seem to work as well, the distances were slow to change and would get stuck at 22cm. It could be a bad sensor on my part.
Another feature that was in NXT-G as well as EV3-G programming languages is that you can make an exact copy of a block by clicking on the block, hold the <ctrl> key left click on the block and drag. This will make a copy of the block. Quick and easy.
So far, this is what I've found. I'm going to be playing with it and with the 2013 field to see how it all works.
Good Luck, Have Fun, and Work Hard